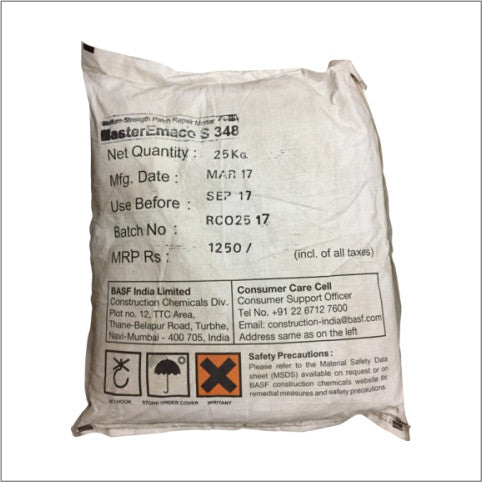 Master Builder Solutions
MasterEmaco S 348
Sale price
Rs. 1,145.82
Regular price
Rs. 1,250.00
"Dual shrinkage compensated, trowelable fibre reinforced thixotropic repair mortar"
Description:
MasterEmaco S 348 trowelable mortar is a dual shrinkage compensated, thixotropic high strength formulation for structural concrete repairs.
MasterEmaco S 348 is suitable for placing in thicknesses of 12mm to 50 mm both vertically and overhead.
MasterEmaco S 348 provides a durable, strong structural repair fully compatible with host concrete.
Recommended uses:
MasterEmaco S 348 is the ideal material for vertical or horizontal structural repairs where the thickness of repair is more than 10- 12mm and use of hand or machine applied structural repair systems is required. Typical applications are:
Extensive repairs to beams, columns and other structural elements
Repair of structural members subjected to repetitive loading
Downloads:
MasterEmaco S 348 Technical Datasheet
( Product images are for illustrative purposes only and may differ from the actual product ) 
---
More from this collection