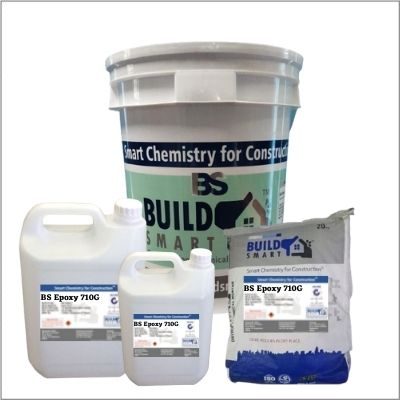 BUILDSMART
BS Epoxy 710G Kit ( Resin 1Kg+Hardener 500gms+Filler 8.5Kg= 10 Kg )
Regular price
Rs. 4,550.00
"High strength, flowable cum trowelable epoxy resin grout system"
Description:
BS Epoxy 710G is a solvent-free low exothermic, filler based grouting system, designed on modified epoxy resin for use as a high precision, heavy duty flowable cum trowelable grout for civil engineering applications.
It is supplied as a three component system consisting of epoxy resin, combined with inert fillers and the hardener, to produce a high viscosity flowable liquid grout suitable for voids of 50-150mm.
Recommended uses:
Machinery foundations with dynamic loads and vibration, where repetitive compression / tension makes cementitious grouts ineffective.
Backing Filler of steel liners of ore crushing machinery in mines and quarries.
In corrosive environments where chemicals, oils and solvents render cementitious grouts unsuitable.
Machinery base plates, crane rails, anchor bolts, hold down bolts and heavy equipment where tensile strength greater than cementitious systems are required.
Product details:

Item Weight :  = BS Epoxy 710G Kit ( Resin 1Kg+Hardener 500gms+Filler 8.5Kg= 10 Kg )
Downloads:
BS Epoxy 710 Technical Datasheet
( Product images are for illustrative purposes only and may differ from the actual product ) 
---
More from this collection