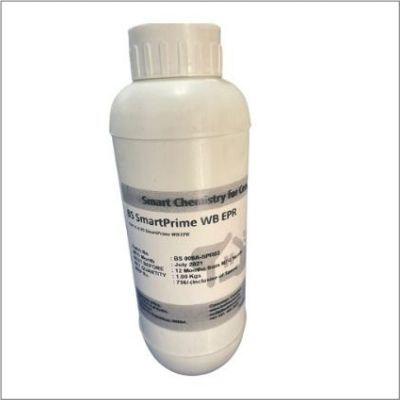 BUILDSMART
BS Smartprime WB EPR (Resin or Part A)
"Waterborne 2K Universal Primer based on Hybrid Epoxy Polyamides Technology"
Description:
BS SMARTPRIME EP is a two-component waterborne priming & sealing system based on hybrid epoxy polyamides technology for application of Acrylic, Epoxies & Polyurethane final top coats and screeds.
It is applicable for floor toppings even in case of ceramic tile substrates. BS SMARTPRIME EP creates a harmonious anchoring and compatibility between various top coats and the substrates for a long lasting performance.
Recommended uses:
BS SMARTPRIME EP has following advantages
Excellent adhesion to various substrates such as concrete, stone, wood, brick, tiles and metal surfaces.
Low exothermic & long pot life
Easy penetration in substrate due to low viscosity
Capability to cure in moist condition
Low VOC and comfortable to work for long hours
Quick drying
Download Technical Datasheet:
BS Smartprime WB EP  Technical Datasheet
New Generation Hybrid Water Borne Epoxy Priming System for all kinds of coatings including

1) Waterbased 1K PU Coating
2) Waterbased 2K PU Coating
3) Solvent Borne 1K PU Coating
4) Solvent Borne 2K PU Coating
5) Epoxy Coating Systems
6) Epoxy Flooring Systems
7) Acrylic Coating Systems
8) Acrylic Cementitious Coating System
9) Waterproofing Coatings of All types

For all kinds of substrates including, Concrete, Mortar, Plaster, Wood.
Not Suitable for Plastics and HDEP, LDPE surfaces.

Mixing Ratio is 1 Part Resin to 2 Parts Hardener to 2 Parts Water (Packaged Water)
( Product images are for illustrative purposes only and may differ from the actual product )
---
More from this collection