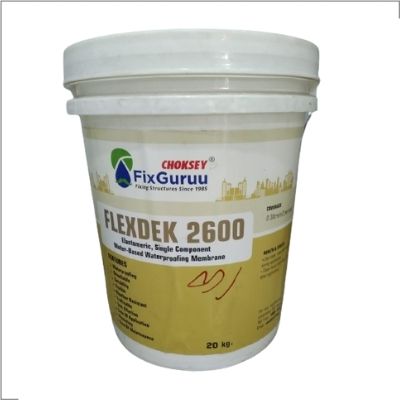 Choksey Chemicals
FLEXDEK 2600
"Elastomeric, Single Component, Water-Based Waterproofing Membrane"
Description:
FLEXDEK 2600 is a high performance, liquid-applied waterproofing membrane of styrene acrylic polymer. It consists of a very elastic polymer with the inherent flexibility that allows the membrane to accommodate movements in the substrate.
It works as a seamless membrane that performs and adapt to any construction requirements in varied climatic conditions.

FLEXDEK 2600 is especially formulated to seal, waterproof and enhances look of exterior surfaces & roofs. It seals cracks and joints in old or new roofs /walls and simultaneously leaving a seamless finish to the roof surface. It has good adhesion with different surfaces.


Recommended uses:
 Fire Walls

Concrete slab deck and roofsNew & old roofs / walls

Car porch roofs

Fibre cement boards

Download Technical Datasheet:
FLEXDEK 2600 Technical Datasheet
( Product images are for illustrative purposes only and may differ from the actual product )
---
More from this collection