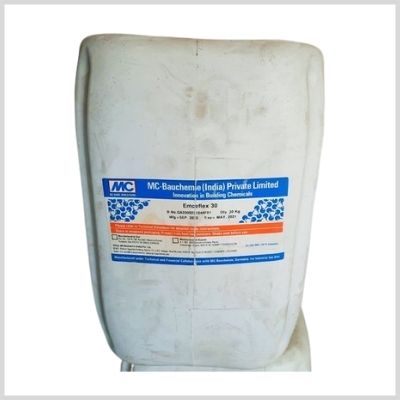 MC-Bauchemie
Emceflex 30
Regular price
Rs. 1,744.60
"Multipurpose acrylic polymer based waterproofing and repair mortar admixture"
Description:
Emceflex 30 is a multi-purpose acrylic polymer based admixture, which is specially formulated for the construction Industry.
It is a very versatile material and can be used as surface sealer, dustproofer and as an additive for sand/cement mortars for waterproofing and concrete repairs.
Emceflex 30 admixed concretes or mortars exhibit higher abrasion resistance and enhanced imperviousness to water.
Recommended uses:
 Suitable for waterproofing of basements, sunken slab of toilets, terraces, roofs, etc.
 Suitable as admixtures for repairing concrete, masonry, surfacing and renders in  conjunction with cement
 Repair component for repairing spalled concrete, floors, cantilever, domes, sunken  slabs for water closets, etc.
 Bonding additive for new to old concrete
 Admixture for cement based exterior coating
 Bonding additive for tile fixing
 Second component of Dichtament DS-Flex flexible waterproofing system
Coverage:
Downloads:
 >>Emceflex 30 Technical Datasheet 
---
More from this collection